Portobello & Grilled Veggie Focaccia
A delicious veggie sandwich of marinated Portobello mushrooms, grilled zucchini, roasted red peppers, grilled onions, Mozzarella cheese, pesto mayo and served on a toasted focaccia roll.
Served with a Complimentary Bowl of Soup or Salad. Add French Fries, Nachos with Cheese, or Fresh Fruit for Only $1.80
$ 8.95
Teriyaki Grilled Chicken Salad
Crisp lettuce, tomatoes, onions, cucumbers, teriyaki marinated chicken breast and your choice of dressing.
$10.50
Chick-A-Dilly Skillet
All white chicken breast, onions, broccoli and mushrooms.
Hash Browns Layered in a Skillet with your Favorite Toppings, Cheddar-Jack Cheese, and Topped with Two Eggs Any Style, and Choice of Toast or Pancakes.
$8.95
Fruit French Toast
Our French toast topped with your choice of strawberry, banana, or blueberry.
$ 7.25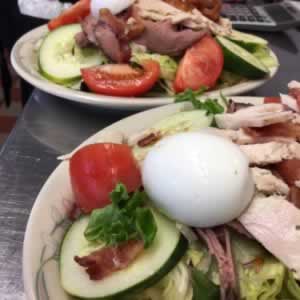 Chef's Salad
Fresh garden greens with beef, turkev bacon, onions, hard boiled egg, tomatoes, and cucumbers.
$ 10.50
Western Omelette
A three egg omelette filled with ham, onions, green peppers, tomatoes, and cheese.
$ 8.75
All Omelettes Served with a Choice of Hash Browns or Fresh Fruit, and a Choice of Toast or Pancakes. Add Cheese for Additional 1.10
Roasted Turkey
Oven-roasted turkey with homemade stuffing, cranberry sauce.
All Dinners Served with Your Choice of Soup, Salad, Cottage Cheese, or Tomato Juice. Also a Choice of Potato or Vegetable. All Dinners include Dinner Rolls and a Complimentary Dessert.
$ 12.50
Cheese Omelette
A three egg omelette served with your Choice of American, Swiss, Cheddar-Jack or Mozzarella.
$ 6.95
All Omelettes Served with a Choice of Hash Browns or Fresh Fruit, and a Choice of Toast or Pancakes. Add Cheese for Additional 1.10